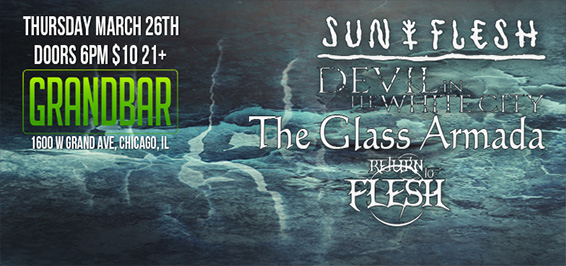 From First To Last announced that they will release their comeback album, Dead Trees, on April 23rd via Sumerian Records. Pre-orders are on sale now. They released a single, "Dead Trees," last November which you can check out below. The song features vocalist Spencer Sotelo of Periphery. The album was successfully funded via Kickstarter.

AWOLNATION HIT THE CHARTS WITH RUN BAND NOTCHES HIGHEST EVER DEBUT CHART POSITIONS LANDING ATOP THE BILLBOARD 200 AT #17, INDEPENDENT ALBUMS #2, ALTERNATIVE ALBUMS #3, TOP ROCK ALBUMS #4, DIGITAL ALBUMS #6 TOP ALBUM SALES #9 AND CURRENT ALBUMS #9 NEW SHOWS ADDED TO THE RUN TOUR 2015 LIVE PERFORMANCE ON CONAN SLATED FOR […]

BEYOND DISHONOR: NJ Modern Metal Favorites to Release "Generations" EP on April 14, 2015 Pre-Order "Generations" EP Now for $6.00! Performing at a Venue Near You – See Below for U.S. Tour Dates Stream 'ED 209 vs. The Staircase' Here "…one of the hardest-working bands on the east coast." – LegendaryRockInterviews.com Hailing from Trenton, New […]

Fireflight have released a music video for, "We Are Alive." The track is off their latest album, Innova, which you can pre-order now! Check out the video and let us know what you think!

I Prevail have signed with Fearless Records. Along side bands like Pierce The Veil, Mayday Parade, Tonight Alive and more. We are honored to partner with Fearless, a record company with a long history committed to artist development," says lead vocalist Brian Burkheiser. "It is beyond our wildest dreams to have an association with this […]

PVRIS have released a music video for their song "White Noise." White Noise is the title track of the album which was released last year grab it on iTunes now. Check out the video and let us know what you think of it!

Strung Out's new album, "Transmission.Alpha.Delta," is out today via Fat Wreck. You can grab it on iTunes, or stream it below. Let us know what you think of it!

Calling all drummers! Here is your chance to ask a professional member of your musical tribe those million dollar questions that keep you up at night! SOILWORK's drummer, celebrated clinician and drum teacher Dirk Verbeuren sits down for an exclusive Q&A on Monday, March 30th at 3:30pm (PT) / 6:30 pm (ET). Drummers & […]

Summerland Tour" Set To Feature Everclear, Toadies, Fuel & American Hi-Fi Lineup and Tour Dates Announced Everclear set to release new album Black Is The New Black on April 28th via The End Records/ADA. New York, NY – March 24, 2015 – The 4th annual 90's alternative music tour is proud to announce Everclear, Toadies, […]

Chunk! No, Captain Chunk! are streaming a new song, "Playing Dead," off their upcoming album, "Get Lost, Find Yourself," due out May 19th via Fearless Records. Check out the song below and let us know what you think. You can pre-order Get Lost, Find Yourself now. They band will be on tour with Hit The […]